---
---
---
---
---
License # 637105 B, C-21
Certified Small Business #19172 & WBE
Phone: 916-983-0700
Bob's Mobile: 916-439-8022
Email:
Double B Demolition Projects
---
Our experience speaks for itself! Here are some of the projects we have completed.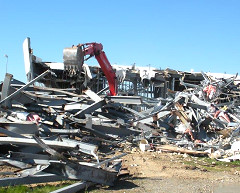 City of Stockton – Apartment Building
Demolished 10 buildings including an apartment complex.

Sharpe Army Depot
Demolished the Air Traffic Control Tower

City of Folsom – Water Tank
Removed a one million gallon water tank.

San Joaquin County Jail
Demolished 3 story concrete jail.

Acalanes Union High School Demolition, Walnut Creek, CA
Demolished two- thirty classroom buildings.

Mather AFB Demolition - 6 Buildings – Sacramento Redevelopment Agency
Demolished 6 warehouses and military buildings.

North Pace Demolition- Fairfield Redevelopment Agency
Demolished 21 four-plex apartment buildings.

Tercero Demolition at UC Davis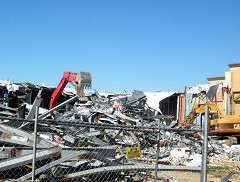 Interior and exterior demolition for new dining hall at UC Davis Campus.

Los Banos Migrant Housing Center – Los Banos, CA
Demolished 55 single family homes.

California State University at Monterey – North Quad Building
Demolished 17 military structures at CSUM, formally Fort Ord.

Livermore VA Hospital Demolition
Demolished 2 buildings at hospital.

Rancho Cordova Infill Project
Demolished the Stagger Inn Bar and an apartment building.